Simple Applique
Add interest to your clothes and accessories with some gorgeous applique.  You can personalise your clothes & cushions with names, motifs or simple applique flowers. We have a range of creative shapes available using the 'Sizzix Big Shot' to cut and make perfect petals, hearts, butterflies or you can create your own by copying your design onto Bondaweb.
What you will learn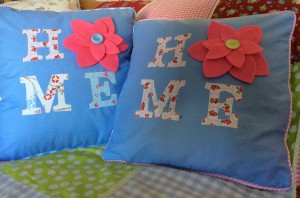 How to use Bondaweb to create your unique applique
How to machine (or hand sew) applique
Knowledge level:  Applique can be machine or handsewn so is suitable for all.
Additional costs: None. Everything is included in the price. You will only be creating samples but if you wish to bring something along to applique please do (it must be a flat single layer).
Tutor: Emma
To join the waiting list please email info@bristolsewingschool.co.uk