Needle Felted Christmas knomes
Come and learn the popular and growing craft of needle felting. Needle felting or dry felting as it is sometimes known is a technique which uses dry wool fleece and a special barbed needle. By moving the needle in and out of the fibres they become entangled causing them to begin to matt together or to a base fabric. By using different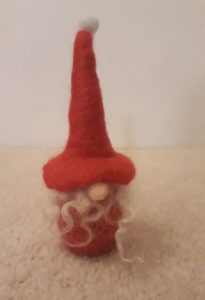 types of fleece and a variety of colours you can build up both pictures and sculpted animals/figures. During this workshop you will create a gorgeous needle felted Christmas knome.
You will learn:

Basic needle felting techniques                   
How to handle the wool fleece and the varieties you can get         
How to mix colours
How to create a 3D effect
Suitable for: Beginners or those who have attended the previous basic needle felting workshop.
Please note: Very sharp needles are used at this workshop!
Additional costs: None, all tools and materials are included in the price. We do sell needle felting kits to take away for £7.50 so you can continue with your creativity!
Tutor: Sian
To join the waiting list please email info@bristolsewingschool.co.uk