Upcycled Patchwork Pouffe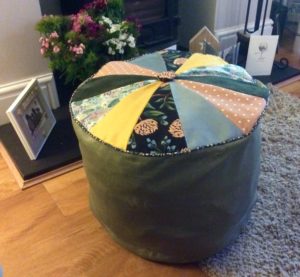 These gorgeous pouffes make a great accessory to any home or why not make them as a special gift for someone? You can use up all your odd scraps of fabric or even use clothes to create the patchwork top, fabrics can also be joined to make the sides and base! The zipped base allows the cover to be removed for washing and inside is a drawstring bag (can be made from old pillowcases) full of scraps and old clothes that would normally go to landfill (I filled mine with around ten old tshirts and tops along with lots of scrap). The pouffe in the picture is around  14" high and 15" in diameter but you can make whatever size you wish.
You will learn:

to measure & cut accurately
to make & attach your own piping
to insert a lapped zip
to make a drawstring bag
add a suitable filling
Additional costs: We have plenty of scraps to use at the workshop but you're welcome to bring your own fabric or clothing.  You can also bring an old working zip and large button to cover if preferred but I will have these available. If you have any old pillow cases bring two along to make your bag. I recommend filling with clothes, scraps, towels etc when you get home as you need quite a lot and they tend to be quite heavy when full!
Suitable for: Someone who can use a sewing machine.
Tutor: Emma
To join the waiting list please email info@bristolsewingschool.co.uk