Make a simple fabric storage box - zoom session
To keep everyone motivated I have introduced a range of simple sewing workshops via zoom. Once registered you will be sent a link to copy & paste ready for the session. I will be teaching step by step & you should be able to use fabrics etc that you have around the house, if not I can supply kits.
These gorgeous, practical storage are a great accessory for any home & once you have mastered the construction and calculations you'll be able to make any size!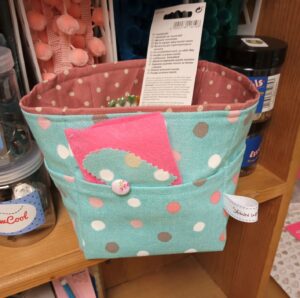 You will learn:
how to make a pattern in your chosen size
create box corners
add fusible interfacing
insert a lining
topstitch
You will need: Amounts are based on 8" x 6" box, 1/2 metre of outer fabric (curtain weight is good), 1/2 metre of heavy weight fusible interfacing (you could use another layer of fabric if you don't have this), 1/2 metre of lining fabric, thread, suitable paper for your pattern (greaseproof, dressmaking paper, newspaper, magazines etc), ruler & pen/pencil.
Tutor: Emma
To join the waiting list please email info@bristolsewingschool.co.uk