Make a Dress two day workshop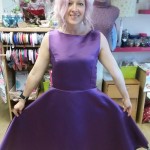 This workshop will teach you how to create a simple  A-line, knee length  dress using a commercial pattern, which we will provide. The pattern is suitable for a range of fabrics including; cotton, wool mix, brocade or even a  more luxurious taffeta or satin mix fabric for an evening dress. Once you have the skills and knowledge you can make a variety of dresses suitable for all year round. The dress can be lengthened or shortened to suit your own individual taste (please note: if you would like to make a longer dress please email me for fabric quantities).
Price includes the use of sewing machines, pattern and all equipment. Some hand finishing will need to be done at home. This is a two day workshop from 10am-2.30pm on Weds 7th & 14th October 2020.
Things you will learn
choosing the correct size for you
fitting a toile (this will be pre-made to your measurements)
transferring the toile to your fabric
positioning & pinning pattern & cutting correctly
sewing a seam, lining & concealed zip
guidance on hemming the dress to the right length

You will need to bring:
3 metres of 115cm or 2.5 metres of 150cm wide cotton  fabric (this will be used to self line the bodice)
1 metre of 150cm plain lining, if you would like to line the skirt (optional) or 1.5 metres of 115cm wide.
22" concealed zip in matching colour

Suitable for: Someone who can use a sewing machine and would like to start creating simple garments.
Before you come: You should already be able to thread and work a sewing machine and have some experience of making simple garments.
Additional costs: None.
Tutor: Emma
To join the waiting list please email info@bristolsewingschool.co.uk