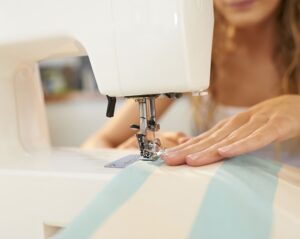 The course  is taught over a period of 20 hours. We will be running the course on a Tuesday evening 6.30-8.30pm once a month starting in January over 10 months. During this course you will learn an invaluable range of techniques using a sewing machine which can be applied to many projects, these include:
Finishing seams, hemming (blind & narrow), making bias, piping & attaching, shell edging zips, buttonholes & rouleau loops, gathering & pleating, applique & smocking.
The course dates are; 12/1, 16/2, 16/3, 13/4, 11/5, 15/6, 13/7, 10/8, 14/9 & 12/10/21. If you unable to make one of the dates there will be  opportunity to catch up on another occasion.
The total cost of the course is £225 which includes all fabrics & haberdashery. You can pay in 4 monthly instalments,  a deposit of £55 is required at time of booking. I would suggest purchasing a portfolio style book to put all your samples & handouts in. You are welcome to bring your own machine if preferred but it should be under 2 years old or PAT tested, you will also need your instruction manuel & accessories.
Tutor: Emma