Charity Event - Transformation Challenge!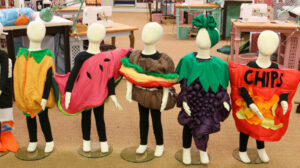 After being inspired by the Sewing Bee we are holding a transformation challenge in aid of Bristol ARC .
You will be provided with a range of fabrics, haberdashery & materials (you won't know until the day) to create a fancy dress outfit suitable for a child or adult. The workshop is timed for 4 hours and must be completed in this time. I Emma will be on hand with any queries. Once completed all costumes will be photographed and Maisie from Bristol ARC will choose a winner! All proceeds will go to Bristol ARC & we will also be running a raffle alongside. The winner will receive a special gift! Places are limited so please book early.
Tutor: Emma
To join the waiting list please email info@bristolsewingschool.co.uk