Unisex bomber jacket course
Keep up with the latest fashion this summer by making your own unique bomber jacket. These look great in a range of fabrics, patterns & colours and can be personalised to create your  own style. Jackets are lined in a contrast or coordinating fabric and can be made waist length or slightly longer. Why not make one for every season!
You will learn: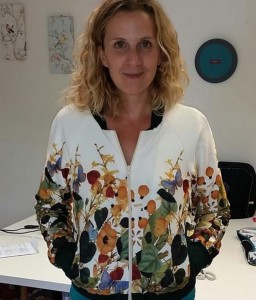 to measure & cut a range of stretch & non-stretch fabrics
add pockets
attach stretch to non-stretch fabrics
add lining
add an exposed zip
Additional costs: You will need 1.5 metres of 150cm or 2 metres of 115cm wide fabric in; wool blends, cotton, brocade, denim, scuba (as picture), silk mix and 1.5 metres of lining in cotton or polycotton.  A 20" separating zipper (XS,S,M) 22" (L,XL,XXL) (men's jackets will require a longer zip). I would recommend buying both sizes as they often need slightly adjusting, and approx. 1/2 metre of rib knit for collar & cuffs or 2.25 metres of 6" deep if buying in packs & 1/4 metre of lightweight  interfacing & matching thread. Patterns will be provided. This is a two day course on Saturday 8th & Sunday 9th October 2022.
Suitable for: Someone who is confident using a sewing machine and is able to make simple garments.
Tutor: Emma
To join the waiting list please email info@bristolsewingschool.co.uk