Make a Cloche Hat
Have you ever wanted to create your own unique, professional looking hat for a special occasion or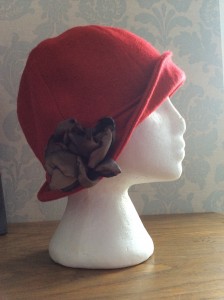 daily wear? This workshop will teach you how to make a simple machine sewn, fully lined cloche hat with the option of adding a range of trims & embellishments.
You will learn
how to adapt a pattern for fitting
how to stiffen (optional) your fabric
how to cut, sew & add a brim
how to make a hat lining and internal headband
advice on trimming the hat
Additional costs:  You will need 1/2 metre of either wool, brocade, faux suede or similar fabric, 1/4 metre of lining fabric, scraps of fabric for trimming (optional).
Suitable for: Intermediate, someone who is experienced and confident in using a sewing machine.
Tutor: Emma
To join the waiting list please email info@bristolsewingschool.co.uk