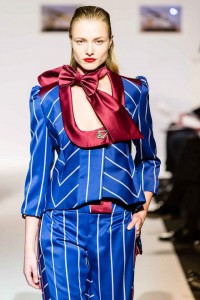 Design and Craft - Level 2 Fashion Wear
Length of Course: One Saturday in the month 10-6pm and one evening in the month 6-9pm from September 2019 until mid July 2020.
In this level 2 City & Guilds course you will make three fashion garments to your own design or  from commercial patterns,  these can be tailored or lingerie designs. The course includes tuition on construction techniques.
You will make 3 out of the following:
A top - blouse, shirt, simple jacket
A skirt - of any style
A waistcoat - of any length
Trousers - of any length
A simple one-piece dress
A waistslip - decorated
One garment must include a zip fastener, one garment must include at least one buttonhole and one garment must include sleeves.
Patterns for the garments made can be commercial patterns, trace patterns, graph patterns or centre-devised patterns.
Candidates should understand these terms.
Items of fashion wear may be for children or adults.
An outline of what the course covers can be found by copy & pasting the following link;  www.inkberrowdesigncentre.co.uk clicking on city & guilds/fashion
Tutor: Julie
The total cost of the course is £1700.00 paid in 10 monthly instalments of £170.00 which includes admin fee & registration. You will be required to pay the first instalment on registration. Please email me if you require an enrolment form.