Keep up with the latest fashion this summer by making your own unique bomber jacket. These look great in a range of fabrics, patterns & colours and can be personalised to create your  own style. Jackets can be lined or unlined (dependant on your fabric) and made waist length or slightly longer. Why not make one for every season!
You will learn: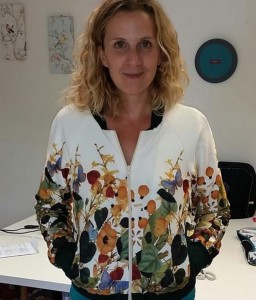 to measure & cut a range of stretch & non-stretch fabrics
add welts & pockets
attach stretch to non-stretch fabrics
add lining (optional)
add facings
add an exposed zip
Additional costs: You will need 1.5 metres of 150cm or 2 metres of 115cm wide fabric in; wool blends, cotton, brocade, scuba (as picture), silk mix. A 20" separating zipper (XS,S,M) 22" (L,XL,XXL) and approx. 1/4 metre of rib knit for collar & cuffs. Patterns, interfacing, thread and all equipment & refreshments are included in the price.
Suitable for: Someone who is confident using a sewing machine and is able to make simple garments. Please note this is a two day workshop running on the 14th & 15th November  2020.
Tutor: Emma