Cushions - Patchwork & pompoms!
This workshop will teach you a range of skills to apply to a range of projects; soft furnishings, clothing & accessories. Come along and make one of these gorgeous patchwork cushions complete with pompoms! You can use ready cut & supplied 5" squares or upcycle old fabrics (clothing) and make your own?
You will learn: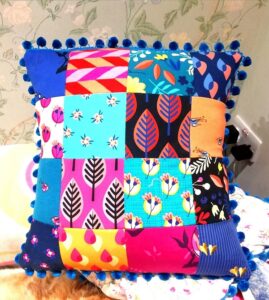 how to cut/sew accurately
how to attach your pompom trim
construct a cushion & insert a zip
Additional costs: Everything is included in the cost (colours are limited) but if you wish to bring your own fabric please bring enough for 20" square (backing) and 16 x 5" squares plus an additional 2.5 metres of pompom trim.
Suitable for: Someone who can use a sewing machine.
Tutor: Emma
To join the waiting list please email info@bristolsewingschool.co.uk