…at the home of sewing & textiles in Bristol
 Here at the school we celebrate the craft and skill of all aspects of sewing, textiles, needlework and creative art projects. Whether you want to sew as a hobby or get a taster for a career change, we have something for everyone.  Learn pattern cutting, willow sculpture, knitting or how to make a dress,  we have all sorts of workshops & courses. We're here to help you learn the art of dressmaking, soft furnishings and to express your creativity through the making of gifts and lovely things for your home using various techniques.
We have just relocated to new premises offering a cosy, creative environment in our brand new garden studio. With outdoor seating & relaxing area to spend time having lunch or coffee & a cake making it an ideal place to unwind with like minded people whilst learning a new skill.
Join our friendly, experienced tutors on one of our informal, relaxed workshops to learn something new or take your skills to the next level. We provide all the equipment, including sewing machines, so you can just come along and get started, all refreshments and some materials are included in the price (please check course details for more information).  We only book 4 people on each workshop (with the exception of knitting & crochet) so you receive plenty of help in a small group.
If you wish to bring your own sewing machine along to the workshop it must be under 2 years old with a warranty or it should be PAT tested (certificate will need to be produced).
A small amount of haberdashery and fabric is available to buy at the workshop, for further enquiries please email me.
As sewing, crafts and creativity have proved effective in mental health why not extend your well being to mindfulness and join Suzanne on one of her courses at www.redberrymindfulness.com
Free patterns!
Garden kneeling pad Instructions
If you have booked onto a course or workshop  further information will be sent out approximately a week before, please check your spam as well, as lots of emails seem to be ending up here. Look forward to seeing you.
COVID19 Information – Please  do not attend the workshop if you feel unwell, I will rearrange new dates. As from the 30th November 2021 please wear a mask (unless you are exempt) whilst attending the workshop.
GIFT VOUCHERS are available to order and come with a choice of unique handmade gift bags. You can choose the value of your gift card and the fabric/colour of your gift bag. Please email info@bristolsewingschool.co.uk to order one.
Last minute gifts! If you would like to purchase one of these handmade sewing bags/box (approx 6″ square) complete with shown accessories at £15 please drop me an email.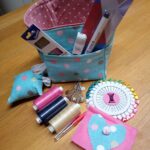 Birthday parties, groups, team building sessions and hen parties welcome give us a call to discuss your requirements.
To hear about classes once we've released new dates join our mailing list and we'll keep you updated.